Summary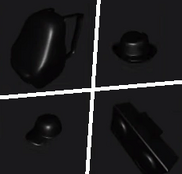 Cosmetics is a feature in ABD which consists of customizing your ROBLOX character. They were released on 04/05/2020 (MM/DD/YY).
You can obtain the cosmetics by purchasing the Cosmetic Bundle 1 or Cosmetic Bundle 2 Each Costing 100 Robux. Each of the bundles gives you 8 different Cosmetics. The Gamepasses can be found on the store page.
You can equip the cosmetics by pressing K on your keyboard. A GUI will pop-up and you'll be able to select what Cosmetic you want.
Features
How to use the GUI: Click the cosmetic you want on the right sidebar, change the properties you want to change (Example: color, material, transparency) Once you are satisfied with your changes, click 'Apply', after that, click wear. There's also a button on the bottom right corner that it's purpose is to reset your cosmetics and your Roblox's hats.
Note: Transparency settings only go from 0 to 1. 0 being no transparency at all and 1 being totally transparent.
List of Materials
Please Press "Expand" to see the list of Materials below:
Brick
Concrete
Cobblestone
Corroded Metal
Diamond Plate
Fabric
Foil
Forcefield
Glass
Grass
Granite
Ice
Marble
Neon
Pebble
Plastic
Sand
Slate
Smooth-plastic
Wood
Wood-planks
Note: Be sure to rejoin the game after making your purchase. (Servers must be version v2.0.2e or higher)
Trivia
The RGB color selector gives you 16,581,375 unique colors, tons to select from.
Although these cosmetics grants you swords, axes, and street signs, they are not designed to give you an advantage over other players. Just visual effects, similar to that of a shiny stand.
List
Eggsmetics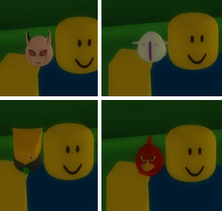 Summary/Appearance:
The Eggsmetics also known as Easter cosmetics are part of the Egghunt/Easter Event that took place in April 2020. Their shape is similar to an egg. But they may held a lot of details. For example, different faces, eyes and other stuff.
How to Equip: 
They can be equipped by pressing on the egg that you wish to equip. The menu for that is can be accessed by clicking on the "Eggsmetic" button on the settings GUI. Note: These Cosmetics cannot be customized (Color, Transparency and Material).
Community content is available under
CC-BY-SA
unless otherwise noted.