What i hate the most in a community is powerhungry attention seekers, you fall in that category, why? well, its rather simple really, let me explain quickly
First, take a look at this image, a post that kidgold posted, telling others how to be popular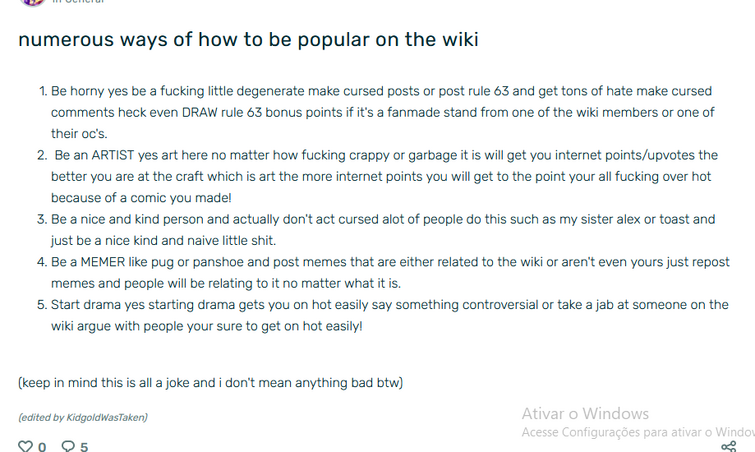 The problem? it has 5 replies, thats a low amount, right? and what do you think the first reply is?
Ah yes, Im sorry I dont spend 100% of my life looking at every post of the wiki and replying to your post, I forgot you were the person the world moved around, i guess that makes you automatically right
And then after his reply trick didnt work, he made THE SAME POST

Then he got lots of replies, lots of ATTENTION, and it got to the top of hot easily, this next thing isnt confirmed but you acting horny, changing your pfp to questionable drawings and making a whole post about your new pfp is a easily spotted attention seeker
A normal person after this would apologize, correct? well, INSTEAD kidgold self-deprecates
Again, low amount of replies, 11, you know what he does? you guessed it, he posts the same thing again

40 replies.....
He kept self deprecating in these replies, i decided to tell him why people hate on him, cause of his attention seeking personality, i expected him to understand and try to improve, but guess what he does? he simply says this
Ah yes, i give you actual advice, i find that your posts have contradictions, and since you want attention, youll ignore me, by the time this rant is done i predict kidgold already made another post saying "why does the wiki hate me" or "everything i do is bad!!!", just ignore it, he only wants your attention
Do you think this is bad already? theres even worse, he didnt just want to make all his posts centered around him, he wanted to make THE WHOLE WIKI centered around him

Yes, he wanted the whole DP community to make posts about how everyone hates him, for attention
Kidgold, listen, even though you will probably ignore this knowing you:
The wiki is hating on you for a reason, its cause of your horny and attention seeking personality, now stop making posts saying the "wiki hates you" and how you want "the old wiki back" since the wiki now apparently "lost its magic", thats bullshit, magic was lost, but it wasnt of the wiki, it was yours
This ends my rant on kidgold, i hope he learns his lesosn, of course he probably wont and he will keep arguing and then blame the wiki/self depricate after he loses the drama
Kidgold, i know what you will say in the replies, "SPAKSTER TRYING TO START DRAMA I WILL LAUNCH INVESTIGATION ON YOU YOU ARE A BRICK WALL WITH A TOPHAT!" well, listen here: i could care less about your opinion on this topic, cause you definetly just gonna repeat the same things